A trip to Thailand would be incomplete without experiencing a traditional Thai massage. In a country where massage joints are a dime a dozen, some of the most luxurious spa centers with the best services can be found in the island of Koh Samui. 
Pamper yourself after a long day of adventures and fun activities. Get a relaxing massage to soothe your body or perhaps a scrub to rejuvenate your skin.
We have saved you the hassle and narrowed down the 14 best luxury spas in Koh Samui.
Baan Thai Spa
Situated within the InterContinental Koh Samui resort, the Baan Thai Spa is surrounded by natural beauty. Combined with the warmth of its wooden interiors, this makes for a blissful setting for wellness and relaxation. The spa features four private massage rooms, a Thai massage room, and a couple's suite equipped with a Balneo bath and a steam room. In addition, two balconies with amazing views are also available where customers can relax and enjoy some healing tea.
Website: www.samui.intercontinental.com/baan-thai-spa-by-harnn
Eranda Herbal Spa
Beautifully nestled in an idyllic location, the Eranda Herbal Spa promises to take care of all your health, beauty, and wellness needs. Other than providing a wide range of spa services, the facility also offers a spectacular view of the Gulf of Thailand.  Stunning architecture, cascading waterfalls, pagodas, stone walkways, and a tropical landscape leads you to the spa where an exclusive pampering experience using 100% natural products awaits.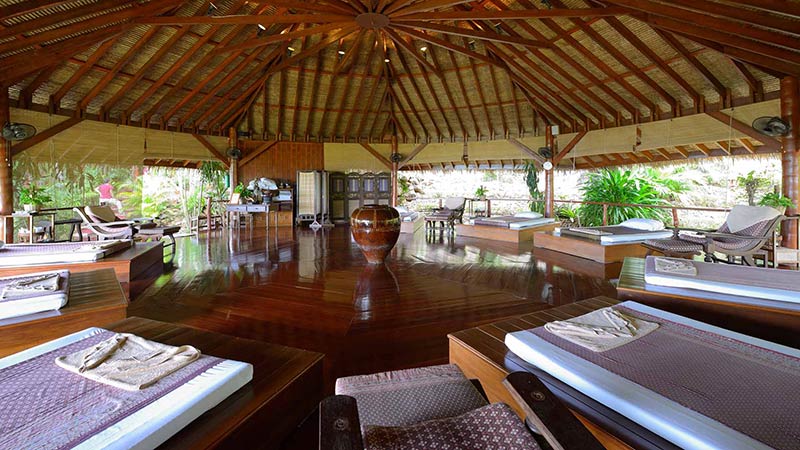 Website: www.erandaspa.com
Tamarind Springs
From when it first opened its doors in 1998 as the first exclusive day spa in the island until today, Tamarind Springs is not only a center of health and wellness, but also a place of rich cultural heritage. The spa provides customers with a taste of authentic Thai massage set amidst the natural and breathtaking landscape of Koh Samui. Whether you are looking for a detox program in the herbal sanctuary or a cool dip in the rocky pools to beat the stress, Tamarind Springs has you covered.
Website: www.tamarindsprings.com
Absolute Sanctuary
This award-winning wellness fitness resort focuses on the four Rs – Reconnect, Revitalize, Recharge, and Re-energize. Managed by AUMA Hospitality, it is one of the best wellness resorts in Asia for health, fitness, lifestyle, and weight management. Whether you wish to detox, de-stress, lose weight or revitalize the soul, Absolute Sanctuary offers lifestyle packages and retreats to help customers address their physical and emotional health.
Website: www.absolutesanctuary.com
Quan Spa
An integral part of the Renaissance Koh Samui Resort, Quan Spa has become one of the main reasons why this resort is so sought after by health and fitness enthusiasts. Clients get to enjoy quality wellness and health treatment programs in a serene setting that guarantees deep relaxation. The facility also offers lessons and classes in traditional massages, fitness, facials, body wraps, and body scrubs to name a few. Customers leave the spa not only rejuvenated but also educated.
Website: www.marriott.com/hotels/hotel-information/fitness-spa-services/usmbr-renaissance-koh-samui-resort-and-spa/
Baan Sabai
Situated close to the beach, Baan Sabai let's you enjoy your wellness journey amidst the white stretch of sand and the swaying palms. Other than massages, facials, and herbal treatments, they also offer health and wellness programs that will rejuvenate and detoxify you inside and out.
Website: www.bansabairesorts.com/big-buddha-spa-resort-samui/big-buddha-samui-spa-treatments/
Amata Spa
One of Coral Bay Resort's popular draws, Amata Spa boasts all-natural treatments and well-trained professional staff. The team is headed by a registered nurse who can help customers tailor and choose the most suitable treatment program for their needs. They take pride in their use of 100% natural allergen-free products. The facility also features an infrared sauna where you can relax after your massage session.
Website: www.coralbay.net/amata-spa/
Four Seasons Tropical Spa
If you are looking for a tropical spa experience, check out the herbal treatment programs offered at the Four Seasons Tropical Spa. They have outdoor massage and treatment rooms where the spaces are covered in linen for privacy while still keeping that natural ambiance. The spa features a lot of wooden interior work and lush green foliage that adds to the tropical vibe. They offer a wide range of customized herbal treatments for men, women, and children. The Four Seasons Spa is part of Four Seasons Resort Koh Samui.
Website: www.fourseasons.com/kohsamui/spa/
Anantara Spa
Did you know that the Anantara grew from being a single Hua Hin-based seaside resort to an international hospitality brand with presence in Europe, Middle East, China, Africa. The Anantara Spa in the Anantara Bophut Resort in Koh Samui is no exception to their great hospitality and the excellence of their wellness programs. The bamboo exterior, tropical water garden, and signature treatment programs make this place a haven for those who want to renew their inner spirits.
Website: www.anantara.com/en/bophut-koh-samui/spa
Luxsa Spa
This is multi-awarded spa is located within Samui's Hansar resort. In Sanskrit, the name Luxsa implies 'health through water'. The spa offers a wide range of treatments that include aromatherapy using scents, spices, and pure Thai essential oils. They also offer traditional massages, facials, and body wraps using Thai products. Their services are based on an ancient healing philosophy that includes four body elements – water, earth, fire, air. Packages for couples and individuals are also available.
Website: www.hansarsamui.com/luxsa_spa
Six Senses Spa
As the name suggests, this spa promises to reawaken your senses through their wellness offerings and experiences. Their healing programs are carefully designed by the highly-respected doctors and health professionals to give you the best of treatment. They don't just take care of your physical fitness, but also ensure healthy sleep and balanced nutrition to give you the ultimate wellness experience.
Website: www.sixsenses.com/en/resorts/samui/wellness-spa
Conrad Koh Samui Spa
If you plan to stay at the Conrad Koh Samui Resort during your visit in the idyllic island, make sure you enjoy a nice massage at their award winning spa. It boasts a picturesque location with a private deck that offers a spectacular 270-degree view. The spa treatments combine modern and traditional techniques and are delivered by highly-trained professionals.
Website: www.conradhotels3.hilton.com/en/hotels/thailand/conrad-koh-samui-USMKSCI/amenities/spa-treatments.html
Cave Rai Ra Spa
Aside from all the pampering treatments and packages they offer, the design of this unique cave-themed spa is an attraction by itself. Decorated with stones, rocks, cascading waterfall, and lush tropical greenery, guests can leave their stresses behind and indulge in a world of relaxing massages and treatments in a serene, one-of-a-kind setting. Cave Rai Ra Spa is part of the Royal Muang Samui Villas.
Website: www.muangsamui.com/royalmuangsamuivillas/cave-rai-ra-spa.html
Anodas Spa
This spa boasts spectacular views of the azure sea as you indulge in their spa treatments. Anodas brings the best aspects of Eastern and Western spa techniques to deliver their signature treatments. Guests can enjoy the secrets of traditional Asian massage mixed with contemporary western facilities. Aside from their standard massages, scrubs and facials, they also offer honeymoon and summer packages among others.
Website: www.noraburiresort.com/spa-samui.html
________________________
Featured image from Four Seasons Samui
Read more articles about the island of Koh Samui.